The club's Valley Express coach service offers supporters transport to and from SE7 from dozens of pick-up points across Kent and Sussex.
Valley Express season tickets for the 2023/24 campaign are now on sale, allowing fans to avoid public transport issues on matchday. Seasonal passes cost £230 for league games, which comes to £10 per game. Click here to purchase your pass.
Click here to purchase match-by-match Valley Express travel.
Pick-up locations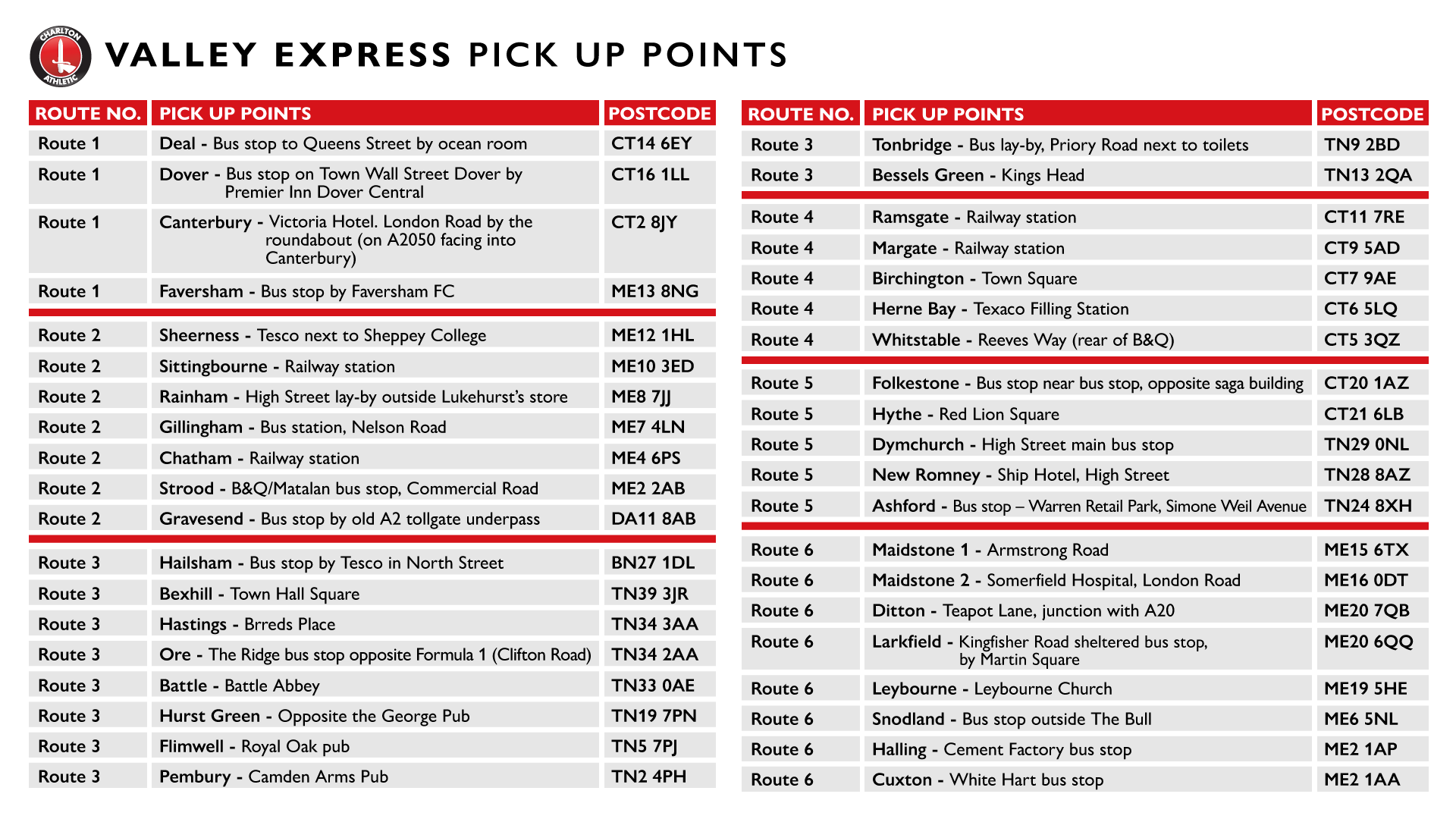 Pick-up times for a 3pm kick-off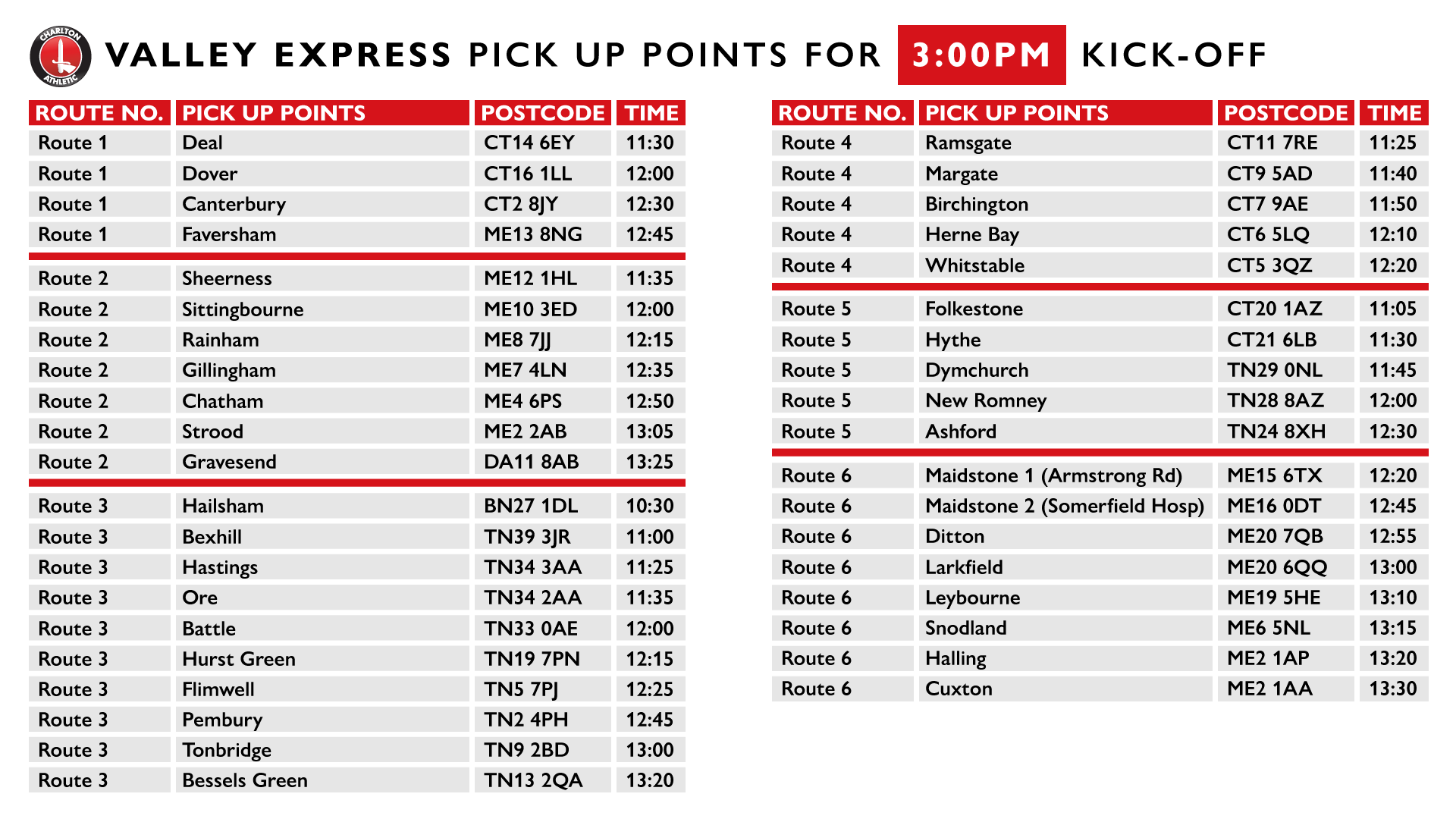 Pick-up times for a 7.45pm kick-off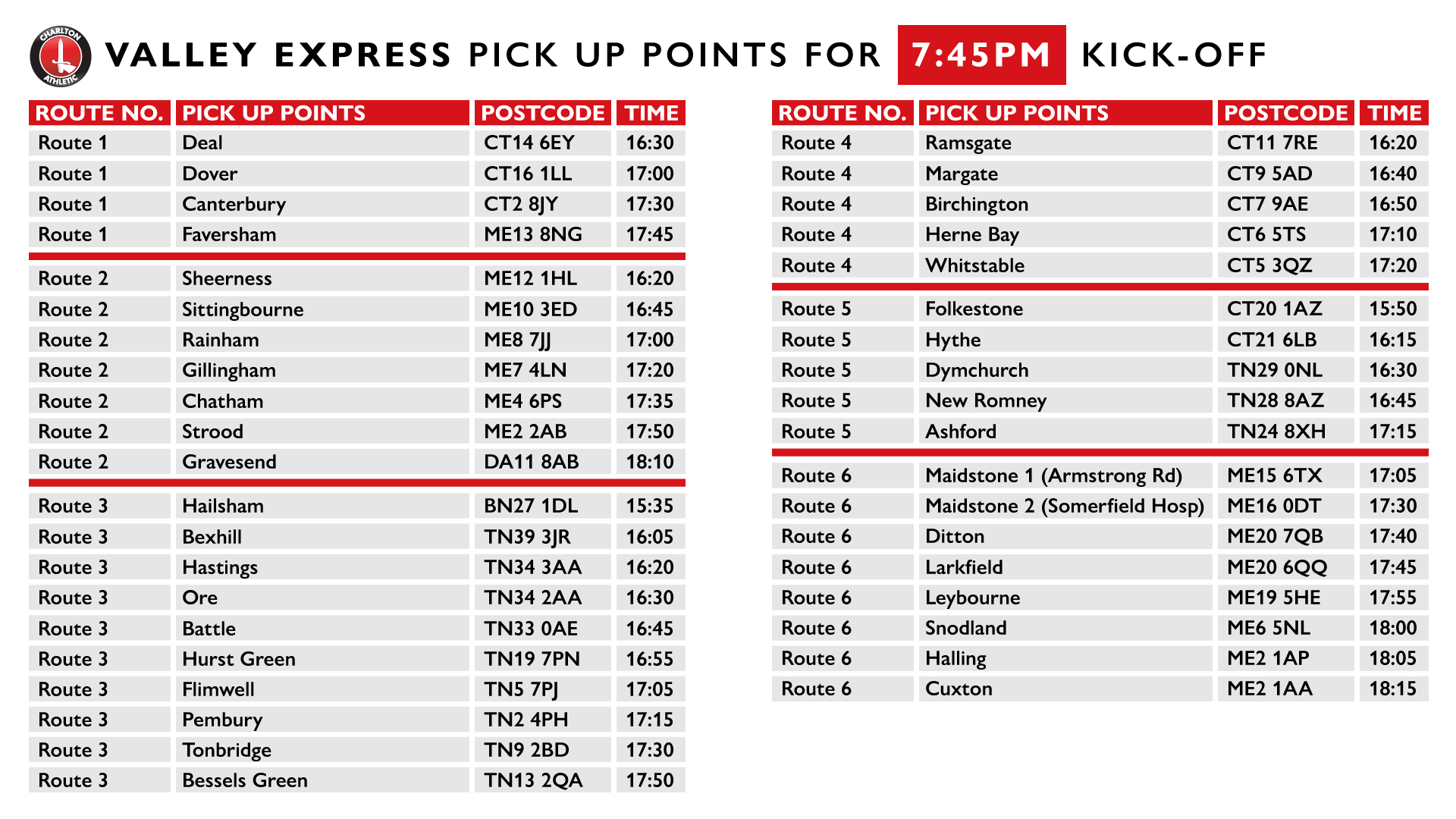 Pick-up times for a 12pm kick-off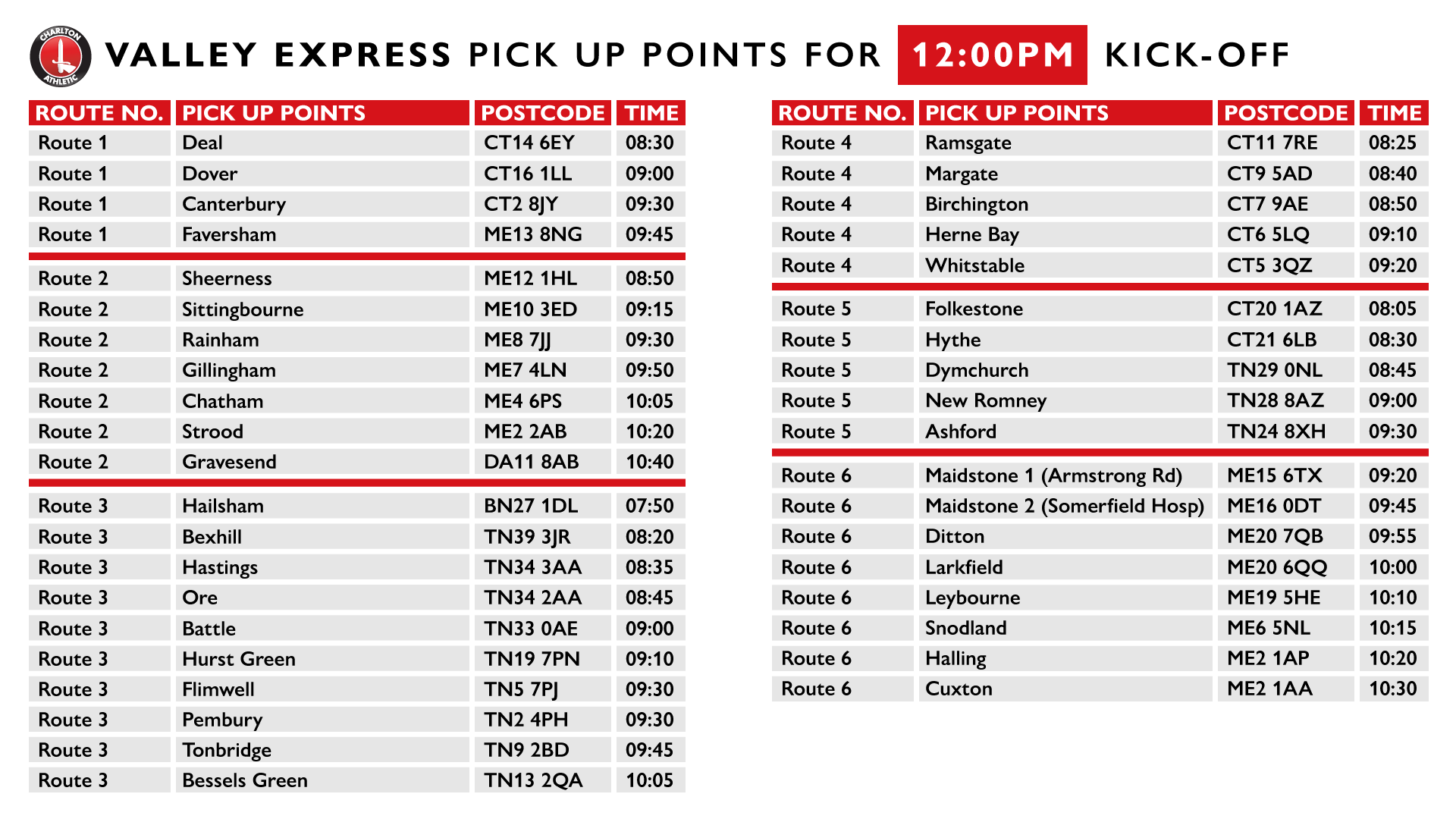 Pick-up times for a 12.30pm kick-off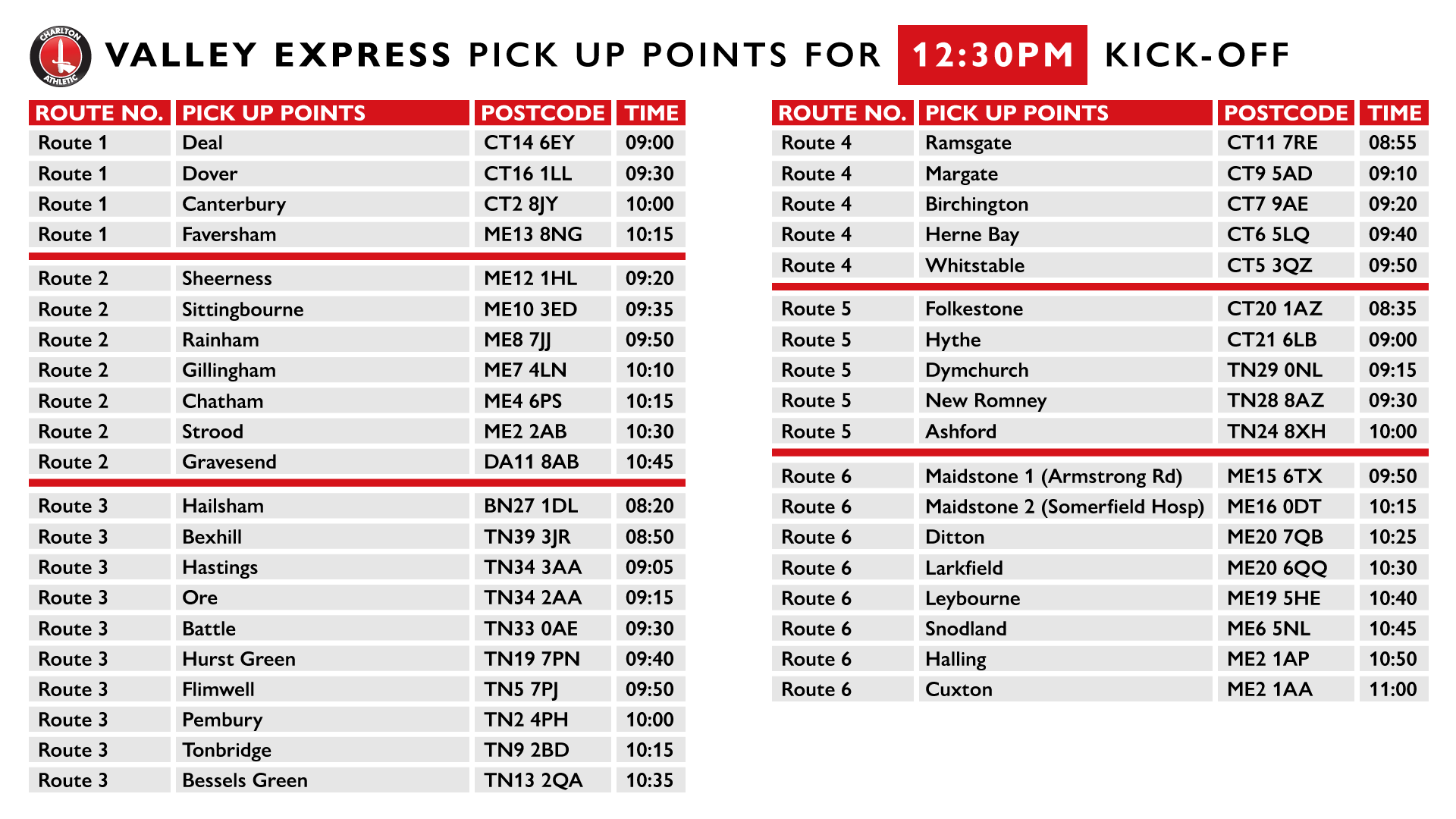 Pick-up times for a 5.30pm kick-off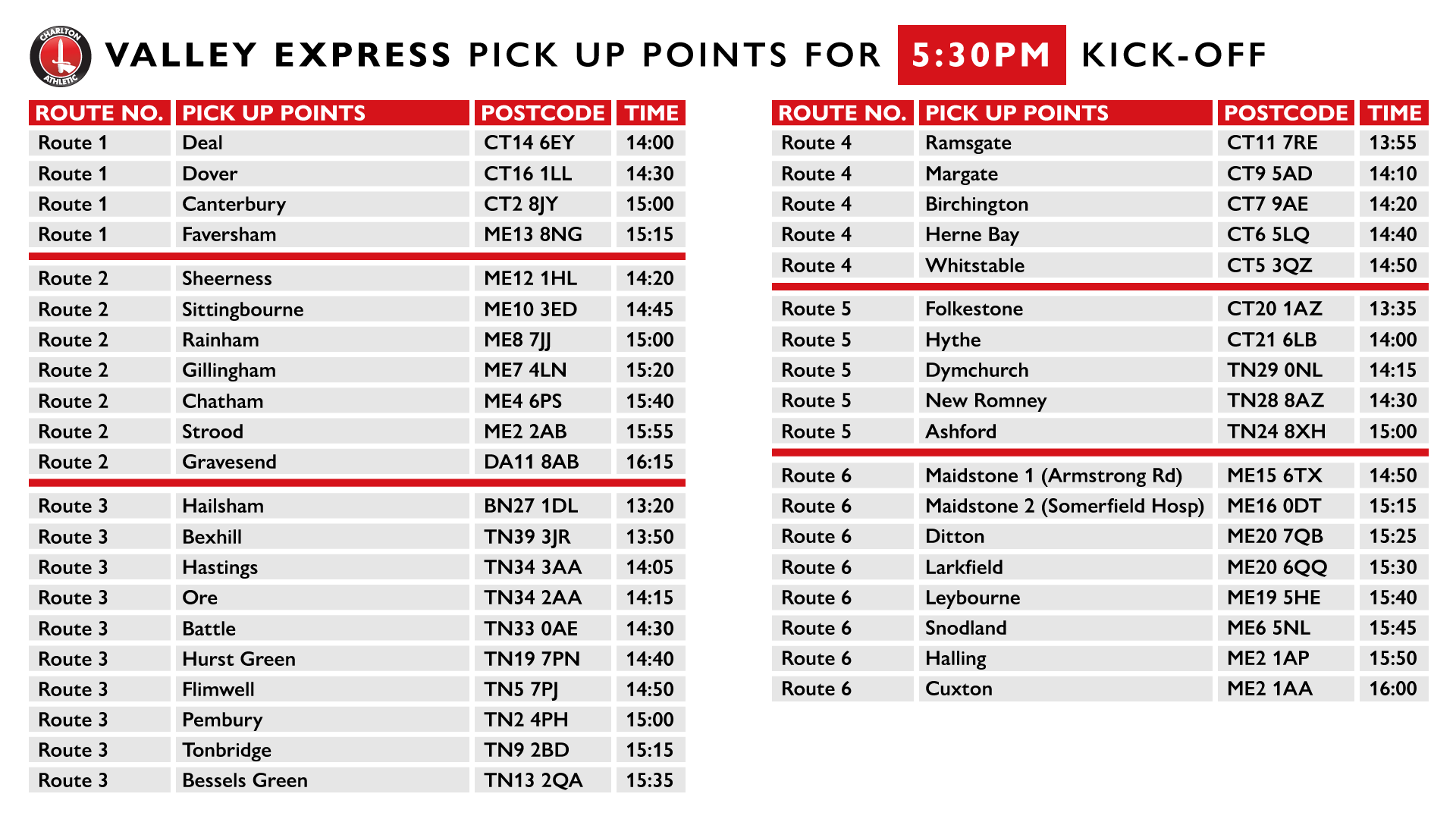 Dos
Please cooperate fully with coach drivers and stewards at all times.
Passengers must remain seated at all times and wear a seatbelt. It is a legal requirement for everyone over the age of 14 to wear seatbelts during coach journeys. The onus to ensure they do so is on passengers, not drivers or the football club as hirer, and police have the power to levy spot fines against people who do not wear seatbelts.
For the safety of all passengers and to assist in keeping vehicles clean, passengers are NOT permitted to consume any form of hot food while travelling on board any coach. Small items of confectionery (such as sweets and chocolate) may be taken onto the vehicle.
Please return promptly to the coach once the game has finished as it will leave 20 minutes after the final whistle has been blown.
Upon leaving the vehicle, you must take all rubbish with you.
Don'ts
No alcoholic drinks are to be taken onto or consumed on the vehicle. It is illegal to carry or consume alcoholic drinks on a coach travelling to or from a designated sporting event, and the coach could be turned around by the authorities should alcohol be found on board.
No smoking on or near the vehicle.
Please do not be too loud – keep noise levels to a minimum so as not to distract the driver. Passengers are not permitted to use any form of electronic equipment at a high volume, which may be heard by fellow passengers or the driver.
Valley Express travel code
Coach times are set so that they arrive at home/away games approximately an hour before kick-off to allow for traffic disruptions/emergencies
For away games, coaches that have to travel for a period above three hours will have a toilet on board. Longer journeys will also have an extra hour added to the travel time for a short break.
Passengers should not put their feet onto seats.
If you have any issues when on the coach or if you are feeling distressed in any way, please inform the steward on duty.
You are responsible for your own personal belongings. If you wish to leave items on the coach, you do so at your own risk.
At any moment, the steward may announce important information regarding your journey so try to be attentive at all times and ensure that you know who the steward is upon arrival.
The club reserves the right to refuse entry onto any vehicle and to refuse travel to any person considered to be a safety risk, who is intoxicated, under the influence of drugs or other substances, or who may otherwise cause a nuisance or disturbance. Those who are found guilty of such behaviour will face a ban on future travel.
Other information
Online ticket and travel orders via the non Red Card members' system will be acknowledged by email, as well as with a paper ticket, but if in doubt please call the ticket office again to confirm your order.
Places at each pick-up point are subject to availability, and will be withdrawn from sale when supplies are exhausted. Details of remaining coach availability will normally be posted in the run-up to each match.
Unfortunately, coach places are not on offer to supporters of the visiting team. 
Coaches for return journeys will depart from Woolwich Road or adjacent roads, as advised immediately after the game. Please ask your steward for details of the precise pick-up point on the outward journey if in any doubt.